Rivers, Lake Centerlines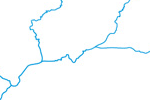 Single-line drainages including optional lake centerlines.
About
Ranked by relative importance. Includes name and line width attributes.
Includes tapering attributes:
(below) Congo River basin, Africa.

Includes scale ranks (large rivers, small rivers):
(below) Southern United States.

Avoid data dump overload:
(below) Quebec, Canada in Natural Earth compared to Digital Chart of the World.

Issues
Does not include intermittent rivers (eg: large seasonal rivers in Australia draining to Lake Eyre playas).
Version History
The master changelog is available on Github »
Feature List
| | | |
| --- | --- | --- |
| Scale Rank | Feature Class | Name |
| 2 | River | Brahmaputra |
| 2 | River | Mekong |
| 2 | River | Ob |
| 2 | River | Peace |
| 2 | River | Danube |
| 2 | River | Paraná |
| 2 | River | Peace |
| 2 | River | Congo |
| 1 | River | Lena |
| 1 | River | Chang (Yangtze) |
| 1 | River | Nile |
| 1 | River | Amazon |
| 1 | River | Mississippi |
| 1 | River | Yangtze |