Land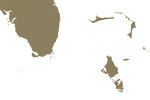 Land polygons including major islands.
About
Derived from 10m coastline. Continental polygons broken into smaller, contiguous pieces to avoid having too many points in any one polygon, facilitating faster data processing in certain software applications.
(below) Yucatan peninsula, Cuba, and Hispaniola.

Issues
Coastline accuracy is suspect for northern Russia and southern Chile.
Some rank 5 land should be reclassified as rank 6.
Version History
3.0.0
2.0.0
1.3.0
1.1.0
1.0.0